If you are pregnant, you always think of wearing dresses capable of hiding your pregnancy bumps. On starting days of pregnancy, you can wear any dress. But after a few weeks, you have to dress up carefully to get the best looks.
Most of the women feel confused about dress selection after 20 weeks of pregnancy, and at that time, they don't want to spend more time on shopping. So the best solution to all such problems is that from the first day of pregnancy, start planning to buy such dresses which can hide your pregnancy bump for 9 months.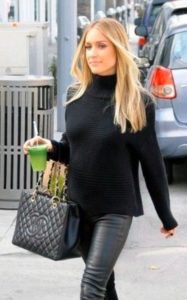 How can I hide my baby bump during pregnancy?
Don't shy away from wearing any color. Wear your whites, play up by mixing patterns or wear animal prints. Empire waist dresses and maxi dresses are both stylish options to consider. Many stylists' advice wearing A-line dresses and tops with slightly boxy forms in the early stages of pregnancy. Create perfect attire by combining it with a bottom that fits closely, such leggings.
What are some comfortable clothing options to consider when you trying to hide your baby bump?
The fact that comfort should come first during pregnancy is a no-brainer. To accommodate your changing body size, choose clothing that is elastic or has a loose fit. To control body temperature, choose breathable, light materials like cotton and linen.
What clothes should you opt for to hide your baby bump during your third trimester?
If you are not ready to share the news with the world and want to conceal your baby bum, try avoiding clothes that cut-off at the mid-section. Dress shirts, oversized sweaters, empire waisted blouses, and high-waisted leggings or jeans can all help conceal your growing belly until you're ready to announce it.
What type of patterns can help hide pregnancy during summer months?
Flashy patterns are quite effective in hiding a pregnant tummy. The eye can be diverted by wearing apparel with ruffles and tunic-style garments. If you don't like bright designs, stick to dark hues. Avoiding solid, vivid colours will also help you conceal your expanding bulge.
Fitting dresses will seek the attention of everyone towards your growing belly, so always go for those dresses which are comfortable and stylish at the same time.
Are you pregnant and looking for the best dresses that are easy to wear? If yes, then you can consider the following dressing ideas.
Women love to wear jeans. So in your early pregnancy, you can wear jeans with an elastic waistband that sits under the bump. You can also use a belly band because it will keep your unbuttoned jeans up, and you will also feel comfortable in it.
You can also wear jeans as you move further along in pregnancy because you can easily find maternity jeans with a waistband that goes over to your belly but don't forget to wear a loose-fitting shirt above the jeans to hide your pregnancy bump.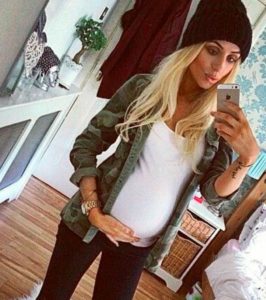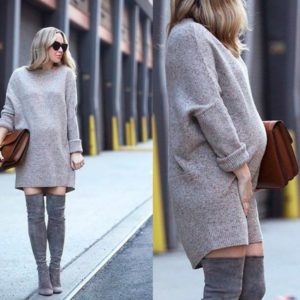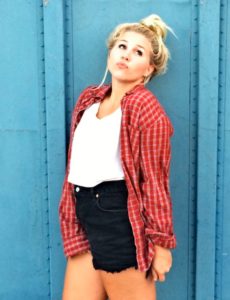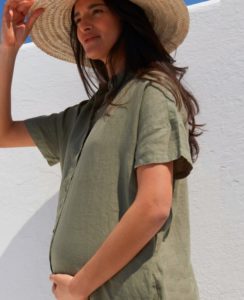 After a few weeks of pregnancy, you can pair a maternity dress with a cardigan because the open front of the sweater will make you feel relaxed, and your loose maternity dress will hide your bump.
Jumpsuits are most comfortable and complete your dressing conveniently. So you can choose a stylish maternity jumpsuit in any desired color. If you are confused about color selection, you must go for a black one because it is the most versatile color.

Dresses To Hide Pregnancy Bump
The tapered legs of the jumpsuit with roomy and stretchy midsection will make your belly free, and it will hide the fats on it. While shopping for maternity jumpsuits, try to avoid zippers and buttons that are complicated. They will show your pregnancy bumps.
You can also wear layers to hide a pregnancy bump easily because these dresses divert people's attention, and your belly bump will not be prominent. Wearing a large-sized sweater with layers is a good idea for the winter season. Similarly, in summer you can wear short sleeve cardigan as well.
Dresses That Hide Pregnancy
Flare tunic tops are also capable of hiding your pregnancy because these flattering dresses adopt an attractive body, and they are large in length to cover your legs diligently. These tops are lightweight, so you can also use them as a nightgown, and their length will hide any bounce and bulge on your belly that is the prime purpose of such dresses.
A V-neck blouse loose top shirt is ideal for daily style in your professional and personal life because it is featured with baggy sleeves that make it look more attractive. The feel of the cloth is gentle and sleek because the material of the dress is not too thick. So you can wear maternity jeans with this loose top for the best combination.
Ruffle dresses with patterns and prints are best to hide your pregnancy. So, go for such ruffle patterns that are according to your body structure. Ruffles dresses give cute and feminine looks but try to avoid thick ruffles as they will draw attention towards your upper body portion.
Empire waist dresses and maxi dresses are also decent options in pregnancy. They draw attention towards the lower body, and going for one plus size will add more comfort to your dressing.